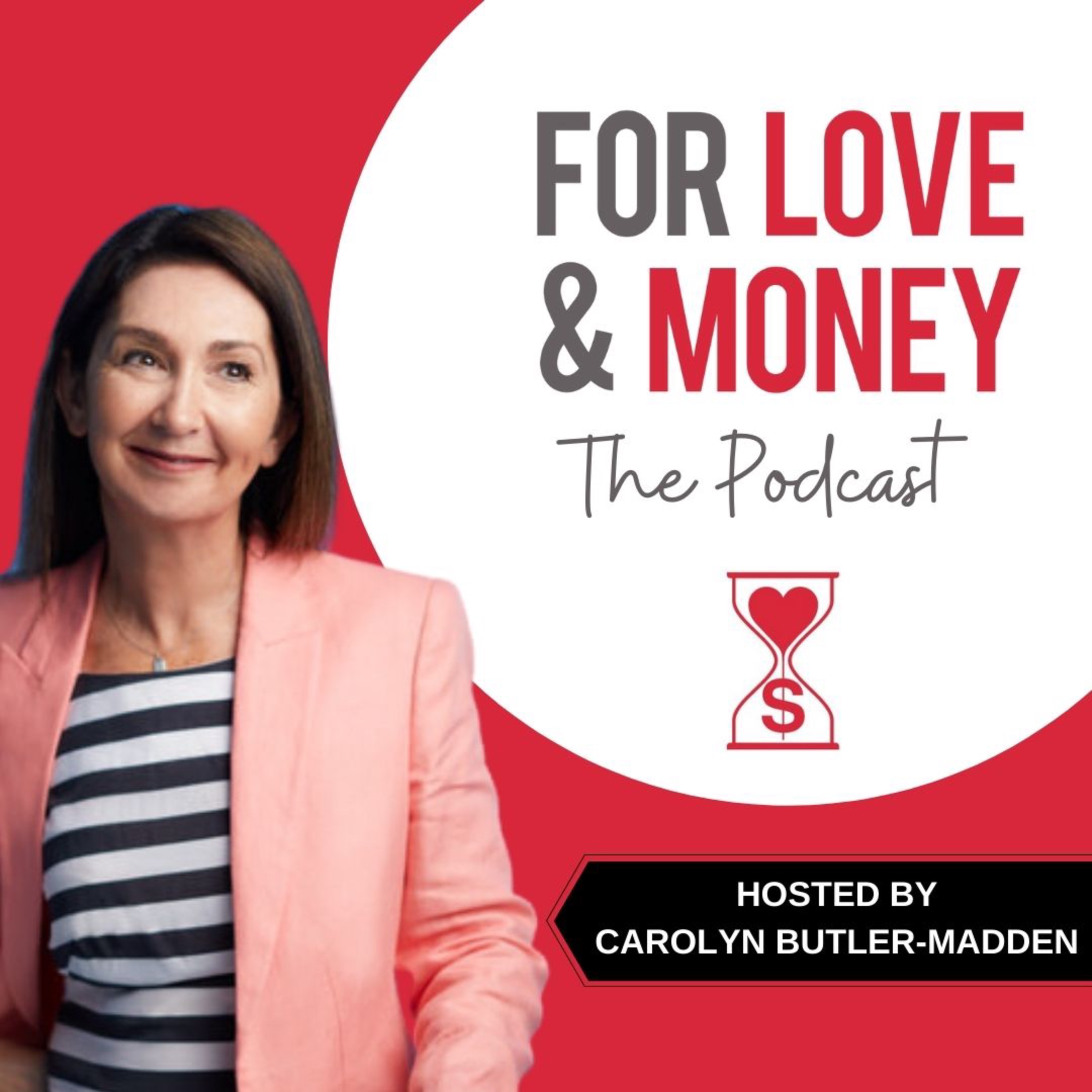 Hosted by Chief Purpose Activist, Carolyn Butler-Madden, The For Love & Money Podcast is a show where business and social purpose meet to inspire a movement for positive change – business as a force for good; brands driving profit through purpose. The two essential ingredients we explore through our podcast interviews? Firstly, Love. Love of our home planet; of humanity; people; culture. Love of what you do and why you do it. The love that employees, customers and clients have of a business built on love. Secondly, Money. Yes, profit. We explore how purpose drives profit. Also how being profitable allows purposeful businesses to scale their impact. The objective of the show is all about inspiration. We want to help our listeners to answer the question so many of them have in their minds: How do I build a purpose-led business in a way that is meaningful, profitable and inspires me and everyone in the organisation to use our business as a force for good?
Episodes
Thursday May 05, 2022
Thursday May 05, 2022
My guest on this podcast says that the best advice she has ever been given was "when you are dancing on thin ice, you may as well tap dance" and that's how she lives her life.
Nicky Sparshott is the CEO of Unilever Australia & New Zealand and former Global CEO of luxury retailer, T2 Tea. She has over 25 years of experience in developing & building brands, growing businesses and transforming infrastructure and culture. She has worked across a broad range of organisations including Unilever, The Coca-Cola Company, P&G and George Patterson Y&R.
Recognised for her depth and breadth of expertise across FMCG, Retail, Luxury and Ecommerce, Nicky also brings broader based category experience spanning food, beverages, health care and personal care.
Nicky holds a Masters in International Business, which has been supported by significant global management experience across Australia, New Zealand, UK, Europe, USA and the highly diverse markets of Asia. She recently completed an Executive MBA in Change, through INSEAD, graduating with Distinction and is also an HBDI certified practitioner.
Nicky is a Non-Executive Director on the boards of World Wildlife Fund Australia, Global Sisters and the Australian Food & Grocery Council and sits on the Australasian Advisory Board of the Ehrenberg-Bass Institute and UTS Vice Chancellors Industry Advisory Board.  She is a National Member of the Champions of Change Coalition; a Founding Member of the B-Team Australasia and Climate Leaders Coalition and is a member of Chief Executive Women. She is a passionate advocate for businesses driving sustainable agendas that positively impact both people and the planet and in doing so be a true force for good.
Avid followers of purpose-led businesses will recognise Unilever as one of the global leaders of the corporate purpose movement, so much so that they've copped criticism from some investors for too much focus on "soft" issues like sustainability and social responsibility. So I was really excited to hear Nicky's perspective on all things purpose and profit and what leadership looks like through the perspective of purpose in business. Nicky's own leadership shines through powerfully in this interview. Not perhaps in the way you might expect of a traditional leader of a big corporation; rather a leader for our times. Australia, and indeed the world, would do well to have more leaders with Nicky's outlook and beliefs. 
If you are looking for inspiration on courageous, strong and vulnerable leadership, you need to tune into this episode.
Here are some of the highlights of our interview:
Nicky shares some of her views from the thesis she recently wrote as part of her Masters of Change, on Love and Fear; emotions that can unleash superpowers, which are so relevant to business during changing times.

Despite not growing up with the ambition to be a CEO of a company like Unilever, Nicky highlights the two key characteristics that she believes has brought her to where she is today: an entrepreneurial spirit which she had from a young age and the activist within, coming from her sense of injustice and a desire to do something about it.

Nicky shares with us her views on leadership, including what she believes her number one job is and how leadership needs to shift from the traditional hierarchical structure to creation of a steer co of equals, agnostic of function, age and hierarchy.

The Great Resignation is reframed positively by Nicky as The Great Realisation and what this means to leaders who want to recruit and retain great talent.

Nicky shares her views on the opportunity behind purposeful business. She challenges listeners to stop looking at the opportunity cost of "doing purpose". Instead look at the opportunity cost of NOT doing it.

Nicky highlights Unilever's background and purpose; what it means for the business; and how Unilever's purpose shows up in practical ways.

She shares an overview of Unilever's current Compass Strategy and highlights the integrated nature of the strategy, being good for business, as well as good for society and the planet.

Unleashing people's superpowers is a recurring theme through this podcast and I suspect something Nicky feels passionately about. She talks about this in the context of goal setting.

Nicky's beliefs on what the new corporate currency is: Care, Compassion and Courage.

She speaks about Diversity, Equity and Inclusion. Not just as another box to be ticked, but in human terms and with a real understanding about what people really desire: an environment where they can belong and show up in their most authentic way.

We discuss the balance between profit and purpose and what Unilever's approach to this is.

Nicky highlights her views on the role of play, purpose and potential to raise performance and to create sticky teams.
And we covered all of this (and more) in under 1 hour!
If you enjoy this episode, please rate it in your favourite podcast listening app.